Squamish
Guided Experiences
Leave the map at home and let our award winning, industry certified guides lead you on some of the best mountain bike trails that British Columbia has to offer on our Squamish guided mountain bike tours.
Squamish is known by everyone in the industry as one of the best mountain biking destinations on the planet.
For many, getting an opportunity to have a guided bike tour in the Sea To Sky Corridor is an adventure bucket list checkmark. The mountain bike trails you will see during our guided rides and guided bike tours are entirely unique with geological features that can't be found anywhere else. Did we mention that one of the #1 rated mountain bike trails in the world is in our backyard?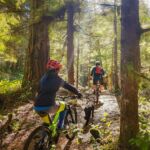 Come see what all the excitement is about and experience what mountain biking has to offer in an all inclusive format, perfect for beginners!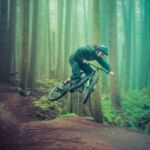 Take the guess work out of your Squamish bike trip and let our guides match your experience with our best riding zones and trails.
$170 for 2 Hour Experience (Bike Rental Included)
$70 for 2 Hour Experience (Bike Rental Included)
Here is a tour tailored for visitors to Squamish and people interested in experiencing mountain bikes for the first time making it a great experience for the whole family!
Over the last few years, Squamish has quickly developed into a hot spot for adventure tourism enthusiasts. Previously only a rest stop between Vancouver and Whistler, Squamish is now a full fledged destination for anyone with a yearning to experience the outdoors on an elevated level. There is no better place to give Mountain Biking a try than Squamish! Mountain Biking will give you a new perspective on outdoor excitement and provide you (and your family) a new challenge that will test you both mentally and physically. Our industry certified guides know how to get the most out of your trip to Squamish and will make sure your first experience on a mountain bike is a memorable one!
RideHub Intro to Mountain Biking is suitable for Beginner riders with no previous mountain biking experience. Clients should be able to competently ride a bicycle on pavement.
Come learn
why everyone wants to ride a mountain bike!
During your Intro to Mountain Biking session, we will teach you the fundamental skills you need to tackle the trails with confidence. Whether it is just yourself, or the whole family, Our guides will show you some of the infamous breathtaking trails that reside in our coastal forests that are entirely unique to this area. Squamish hosts the largest remaining intact temperate rainforest in the world.
Everything you need will be provided, including a super high-end Mountain Bike from Norco Bicycles and a Helmet to keep you safe.
Get started on the right foot
Expert guide & instructor
Your mountain bike is included
Your helmet is included
A guided experience for everyone
A great experience for the whole family awaits
$170 for 3 Hour Guided Ride
$260 for 5 Hour Guided Ride
$70 for 3 Hour Guided Ride
$90 for 5 Hour Guided Ride
Whether you are looking for limitless flow, techie gnar or monster rock slabs, Squamish mountain biking has it all and our guides know where to find it. With all these trails to ride, it is all too easy to spend your day staring at a map as opposed to smiling from ear to ear. Are you used to riding double black trails back home? Do you wonder how that translates on Squamish bike trails? These are the reasons it makes sense to use our mountain bike guides and let RideHub plan a guided mountain bike tour for you and your group. Want the best food and beer in town? We know where it is and it takes the guess work out of your vacation.
RideHub Guided Rides are suitable for Novice, Intermediate & Advanced riders. Your skill level & endurance will dictate where our guides take you and your group. Riders with no experience should take Intro to Mountain Biking or Private Lessons first.
Leave the planning
to our team
Have an idea that you want to make happen? Are you a corporate group looking for an awesome team building experience. Maybe a surprise for a friend or a significant other? Let us know and we'll tailor an unforgettable experience with our guides. Combine our guided rides with some Squamish specific training and overnight accommodation and unlock a whole new level of adventure tourism! We are experts at coordinating events so you can leave all the hard stuff to us!
Always private groups, just you and your guide
As simple or gnarly as your level allows
An insured, permitted & certified expert Guide
Access to our customer shuttle (when available)
Maximize your bike time, without getting lost
We will make this the most fun on two wheels!
beginners through to world champions
Jessica R.
Private MTB Instruction
I invested a few days into some private skills coaching with the RideHub team and I just want to say thank you for the tremendous support with my riding. I look forward to shredding the trails all season and coming for a refresher before the start of next season. Thank you!
Anonymous Rider
Private MTB Instruction
By far the best skills coaching I have ever received on a bike. Matt took the time to break my riding down to it's core pieces and through his lessons help me understand why I had trouble progressing further with my skills. I highly recommend mountain bike private lessons!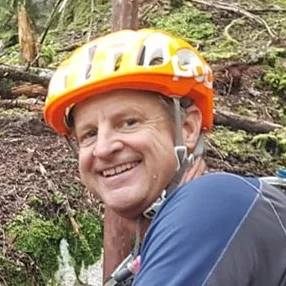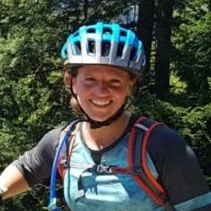 of customers aren't wrong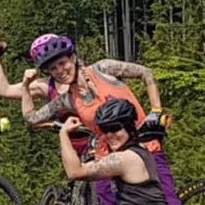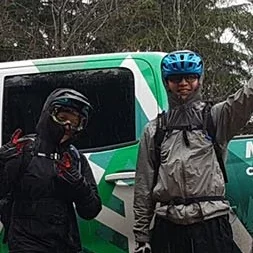 Reach out to our team for more information!
Frequently asked
questions
It's always great to #investinyourself