RideHub is your source for bike rentals in Squamish with a wide selection of enduro mountain bikes, youth bikes, cruisers, gravel bikes and e-bikes available all season long. When you are ready to go biking in Squamish, we have you covered.
When you are in British Columbia, rent a bike that was designed for the terrain you will be riding from the #1 rated rental shop and you won't regret it!
At RideHub, we provide our customers access to the best Norco & Devinci All-Mountain and Enduro Rental bikes. These Rental Mountain Bikes have been designed in Canada and tested on some of the toughest proving grounds in the world.
There are more than a few reasons to rent mountain bikes from us. We don't surprise you with hidden costs like a helmet rental – it's included in your rental price. We have quality bikes, that are maintained DAILY by our team of expert mechanics ensuring you have a problem free experience with your rental. We also guarantee to have the best prices in Squamish for our rental bikes, as well as the most convenient rental hours and booking slots so you get the bike you want, when you want. Need a bike delivered to you? We can help with that too. You can ride your rental bike right from our location to the actual trails you are going to ride with our convenient central location. Take the hassle out of your rental experience and choose RideHub!
The best all round bikes for Squamish trails for both adults and kids
Get a little assistance on the climbs with our E-Bikes and do more laps!
Explore Squamish through the hundreds of kilometers of gravel backroads
Avoid the car and explore all the culture Squamish has to offer actively
The Sight Carbon, available from RideHub exclusively as a 29er, is a versatile all-mountain rental bike featuring modern geometry and suspension kinematics for a fast, stable and playful ride on a wide range of terrain. Balanced climbing and descending capability combined with grin-inducing playfulness and nimble handling make the Sight Carbon the ideal accomplice for any aggressive all-mountain rider.
As adept rolling local trails as it is exploring untapped wilderness, the Fluid FS is built light and tough, and holds nothing back when faced with a challenge. The Fluid FS's combination of long reach, slack head tube angle and steep seat tube angle make for powerful pedaling, increased climbing traction and added grip and control. That's why it won Vital MTB's 2022 Bike of the Year.
The Fluid FS is a progressive, aggressive trail bike designed for young riders to tackle a wide range of demanding trails with confidence and capability. Bringing progressive design to younger riders requires more than just shorter measurements, and smaller tubes – Norco built the Fluid FS with low standover, longer reach, youth-tuned suspension components and a dropper that is optimized for riders below 90 pounds.
Devinci's e-Spartan salutes those about to rock with the kind of slack, aggressive roll you'd expect from the spawn of Spartan—and with the extra oomph of an e-equipped engine. Tame turbulent descents thanks to a generous 170mm of rear travel meets 180mm of finesse in the fork. And then turn around and hit turbo on the uphill.
The Sight VLT is an electric All-Mountain whip with amazing descending capability, sure-footed climbing and trail charging grip that features modern geometry and suspension kinematics for a fast, stable and playful ride on a wide range of terrain. Balanced climbing and descending capability make the Sight VLT the ideal pedal assisted accomplice for any aggressive all-mountain rider.
If you're a hardy adventure-seeker who blurs the lines between traditional ride styles, you've come to the right place. The Search XR has a penchant for speed on any road surface. Whether you've put in months of planning, or you just decided to turn right on a whim, the Search XR is built to thrive off the beaten path, and wherever adventure takes you.
Perhaps you are just wanting to take a casual ride around Squamish and head to the beach – sounds lovely right? The Scene is a relaxed urban ride that's a fun, easy way to get around and can replace the need for a car in the city. It adds versatility for all sorts of rides, and high-volume tires provide grip and shock absorption.
beginners through to world champions
Jessica R.
Private MTB Instruction
I invested a few days into some private skills coaching with the RideHub team and I just want to say thank you for the tremendous support with my riding. I look forward to shredding the trails all season and coming for a refresher before the start of next season. Thank you!
Anonymous Rider
Private MTB Instruction
By far the best skills coaching I have ever received on a bike. Matt took the time to break my riding down to it's core pieces and through his lessons help me understand why I had trouble progressing further with my skills. I highly recommend mountain bike private lessons!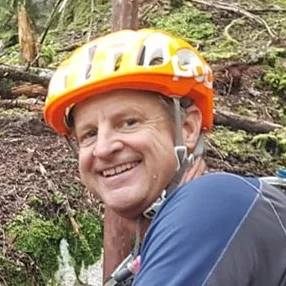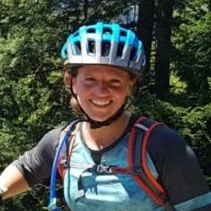 bike rental in Squamish by riders like you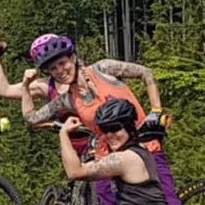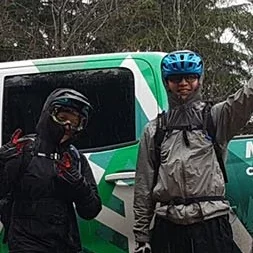 Reach out to our team for more information!
Frequently asked
questions
Come ride bikes in the greatest place on earth