Our 2020 Adult Programs are ready to book. We have already heard from a number of you who wanted to register again and continue mastering your riding.
Coaching is where it all started with us a decade ago, and it's all about that secret ingredient. As your mother might say, "Our coaching is made with love."
We all have our hangups, and hey even coaches need coaching. That is the beauty of this sport, if you are open to learning, there is always room for growth.
New for 2020
We have re-branded our Breakthrough clinic and given it a name that is more concise with what we are doing… building foundations. Remember, most of the challenges we find with riders that are holding back their progress are uncovered during these Foundations courses.
The curriculum is the same as the Breakthrough Clinics from 2019, and it's a great way to drop-kick the cobwebs off and start the season off right. Remember, this clinic is designed in a way so you could take it over and over and you will always progress, develop and refine your skills.
We do get questions about the differences between the GREEN and BLUE levels of the course. The curriculum for the courses are in fact the same – a focus on the fundamental elements, but we try and match similarly skilled riders in each group. In the BLUE course, we tend pedal faster and progress onto more difficult trails for skill development. If you typically ride Blue Square and some Black Diamond trails, you would be best suited to sign up for the BLUE level. The more you progress, the more challenging we can make it – there is no limit to the level of development we can push during these programs.
The course is available in two flavours: Our typical 4 consecutive week after work/school program and our new weekend full day camp. If you are visiting from out of town, the full day is an easy way to get the training you need in a single shot.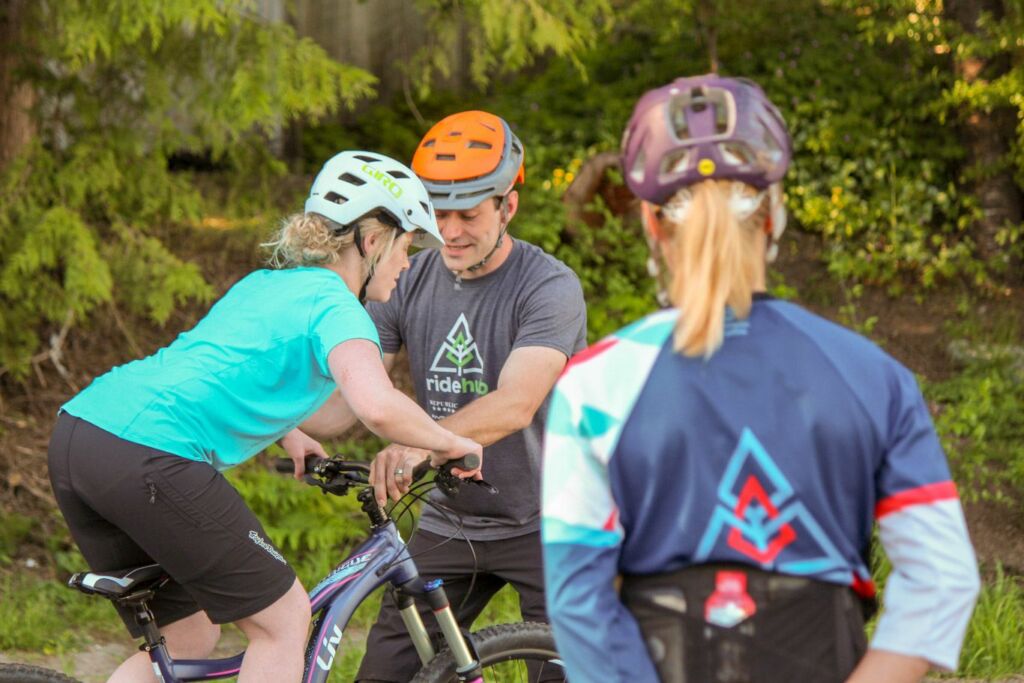 Back by popular demand…
Drops Clinics
Cornering Clinics
Private Instruction
For this year we have DOUBLED the number of courses we are running because we hit capacity last year. There are new options for days with camps running on Sundays thanks to your feedback.
We have also added 3 and 5 packs of both Half-Day and Full Day Private lessons. These are discounted bundles that let you invest into your training for the year with a coach.
Needless to say, there is no limit to where you can take your riding this year. If you don't see a course that suits your needs, we want to hear about it – that is how WE improve.
We look forward to seeing you out on the trails… with your eyes up and elbows out of course!